Browse Playbook® Stories for Grade Levels 3-5
Click here to learn more about Playbooks® Reading Levels
Playbook® Stories in Spanish and Engish-Over-Spanish
Is your program involved in the Bi-National Migrant Education Initiative? Looking for ways to support Spanish speaking students? Use our Spanish Readers Theater scripts and help the Spanish students in improving their reading fluency and comprehension skills.
Reader's Theater is reading a story like a play in small, non-threatening groups of about six students. "Conversational dialogue" and exposure to other students reading roles in context with meaning, inflection, and dramatic expression make reader's theater a great tool for a bilingual or second language curriculum. It motivates language and vocabulary acquisition through compelling and cultural story content in an immersion method (not phonics) that is communicative and authentic. It incorporates four important language skills: listening, speaking, reading, and writing. When combined with cross-curricular activities, reader's theater is congruent with the Six Key Strategies for Teachers of English Learners.

Considering the education of Spanish students, we have introduced Spanish Readers Theater scripts. You can easily order our Playbook® stories by purchase order or online and we provide online implementation training for your teachers. Our Spanish language-based Playbooks®are specially designed with Spanish dialogue texts, or with "ENGLISH OVER SPANISH" to help students learn English in a natural way.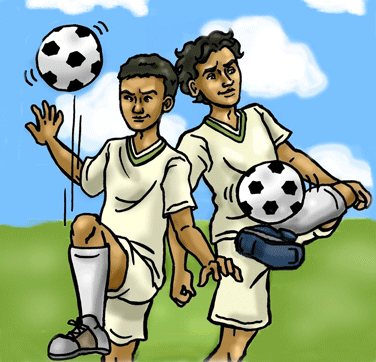 The following are Playbooks® Stories available in Spanish and English-over-Spanish.
Doing the Dinosaur Dip - El Baile del Dinosaurio
Content for Grades 1-3,
Character Roles Written at Reading Stages 1-4
Rex T. Rex, Sammy Stegosaurus, and Aria Allosaurus play in their own rock and roll band. Sammy and Aria keep telling Rex T. Rex that he needs to practice the band's new songs, but Rex seems to think he doesn't need practice. Rex would much rather watch TV and listen to his favorite rock star, Triple T. Triceratops. When the band performs at a sold-out show, will Rex be ready?

Available in Spanish for improved fluency in reading Spanish, and in English-over-Spanish for improved English speaking and comprehension.
Soccer Stars - Estrellas de Futbol
Content for Grades 1-3,
Character Roles Written at Reading Stages 3-5
Luis loves soccer, as does everyone in Mexico! However, for Luis, it was his life, and his greatest dream was to someday play for Mexico in the World Cup. He believed he was the best player on the team, but no one else seemed to notice! His coach, his teacher, and everyone in town only seemed to be interested in Alejandro. Alejandro's grandfather had been a great soccer player-so what! Luis was jealous, so Luis did something drastic to take the attention off Alejandro. But he caused more damage than he could have imagined and his envy was replaced with a horrible sense of guilt. His grandmother talked to him about forgiveness, but Luis was confident that this time there was no way out. How could the townspeople, and especially Alejandro, ever forgive him?
Available in Spanish Only.